As a top-producing local real estate team, we're committed to giving you excellent personalized service. This guide offers a timely analysis of the housing market for Sharon Heights and Menlo Park that will help you strengthen your negotiating position as a buyer or seller, develop a winning buying or selling strategy, and answer questions you might have during this time.
At the time of writing this guide, we are navigating through the COVID-19 pandemic. The situation is impacting the real estate market in several key ways which we will outline in this paper. In addition to the outline below, interest rates will likely remain historically low for the foreseeable future. This encourages potential home buyers to take advantage of low interest financing, makes investments in real estate safer than other assets like stocks, and offsets some of the negative impacts to housing demand associated with the global pandemic.
As the coming months unfold, shelter remains a basic need. Life events—such as relocations, divorces, and deaths—still require people to buy and sell real estate. Real estate has been declared an essential service because everyone needs shelter, particularly in the time of social distancing. To that end, we remain committed to keeping you informed about local market conditions.
The fundamentals of developing a winning buying and selling strategy remain the same, one that takes into account the current housing market indicators in your local market. With that in mind, in this guide we will cover:
Housing Market Behavior During the Pandemic
San Mateo County Housing Trends
Key Housing Market Indicators for Sharon Heights and Menlo Park: Median single family home and condo prices are up compared to last year amidst lower sales and inventory levels. Homes are selling in line with their list prices.
HOUSING MARKET BEHAVIOR DURING THE PANDEMIC
The California housing market has held up well during the initial months of the pandemic. In San Mateo county, median home prices rose 12% since February, before the pandemic began. The condo market has been stable, with prices down slightly by 3%.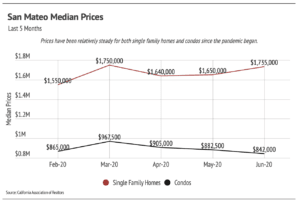 Despite the fact that forecasters downgraded the U.S. economic outlook due to the effects of the pandemic in April, mortgage-finance giant Fannie Mae said that it expects the 2020 national median existing-home prices to rise from $272,000 to $275,000. This is due to demand outpacing supply in many markets throughout the country. On June 29th, the National Association of Realtors (NAR) reported that pending home sales mounted a record comeback in June, rising 44% and chronicling the highest month-over-month gain since the index's inception. Even before the pandemic, the housing market was undersupplied for years. Lawrence Yun, NAR's chief economist, emphasized the persistent supply issue when he said in April, "You would have to see continuing job losses for a prolonged period leading to foreclosures, and even then we may not have oversupply."
While home values remain intact, many homeowners are using this time to refinance their homes. On June 17th, the Mortgage Bankers Association (MBA) reported that nationwide refinances were up 10% from the previous week and were 106% higher than the same week one year ago. The falling mortgage rates in March generated a refinance boom, and since March, rates have fallen even further.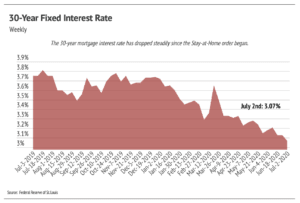 As a general rule of thumb, homeowners benefit from refinancing if they can lower their rates by at least 1%. Refinancing also provides an opportunity to part with private mortgage insurance (PMI), as long as the value of the home has risen and the owner has enough equity in the home. For owners of the median-priced San Mateo county home in June ($1,735,000), a 1% reduction would reduce monthly payments by approximately $900.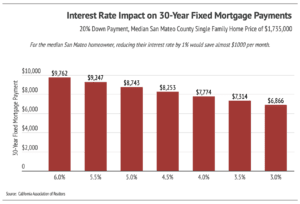 While rates remain low, mortgage loans could be harder to qualify for. JP Morgan Chase was the first of the big banks to report that they are tightening their lending standards. Starting April 14th, borrowers applying for a mortgage with Chase will need a credit score of at least 700 and make a down payment of at least 20% of the home's appraised value (this does not apply for existing mortgages or to low and moderate income borrowers who qualify for other loans).
Purchase applications have also trended upward. Joel Kan, MBA's Vice President of Forecasting had this to say regarding mortgage applications for home purchases: "Purchase applications increased to the highest level in over 11 years and for the ninth consecutive week. The housing market continues to experience the release of unrealized pent-up demand from earlier this spring, as well as a gradual improvement in consumer confidence".
The rise in purchase applications suggests that we should see more homes go under contract over the next month, which in turn become home sales around 30 days later when the contracts are signed. This should continue to buoy prices.
SAN MATEO COUNTY HOUSING TRENDS
The pandemic's impact on the housing market has progressed so rapidly we began to take a look at market data by week rather than by month (as is typical) to illustrate how the market has changed over a shorter timeline.
We start by taking a look at the number of homes under contract since the beginning of the pandemic. During the week of March 30th, listings under contract hit a low. However, listings under contract bounced back quickly and surpassed the levels we saw in early March before the pandemic began. This indicates that people are forging ahead in a resilient market and matches up with the MBA's report on rising purchase applications.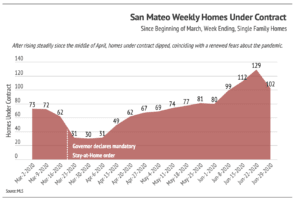 However, during the last week of June, listings under contract fell coinciding with a resurgence in fears about the pandemic. Looking at the weekly housing inventory data, we see the same trend on the supply side. Active listings had risen steadily as more sellers entered the market with a pullback in the second half of June.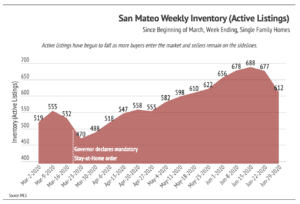 With home sales and inventory trending in lock step, sale prices remain stable. The chart below shows the sale-to-list price ratio, which is a measure of the difference between the original list price of the home and the final sale price. For example, a ratio of 100% means that the home sold for the same price that it was listed. Sales-to-list-price ratio is an indicator that reflects the negotiation power of home buyers and home sellers under current market conditions. Both single family homes and condos are selling close to their original list price, with neither buyers nor sellers making significant price concessions.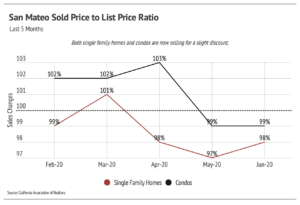 In summary, the pandemic has had a major impact on the housing market, but relatively little impact on housing value. We continue to see a healthy market with strong underlying fundamentals.
KEY HOUSING MARKET INDICATORS FOR SHARON HEIGHTS AND MENLO PARK (94025 ZIP CODE)
Now we take a look at the Sharon Heights and Menlo Park local housing market data to refine a winning buying and selling strategy. For this guide, we look at both single family homes and condos. Here is a snapshot of the housing market in June of 2020 across several key indicators. As the market conditions change in response to the global pandemic, we can look at this data in real time to make the best decisions. We use data specifically for the 94025 zip code.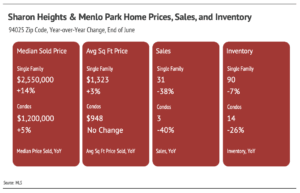 The 94025 zip code housing market saw higher prices than the surrounding county in June ($1.735M for the median San Mateo county home). Median home prices were up 14% compared to the previous year and up 5% for condos. Appreciating home prices typically encourage sellers to price their listing slightly above comparables. In line with the rest of the county and state, sales and inventory were down by a wide margin in both markets.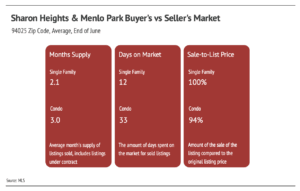 The 94025 housing market favors the sellers.
In June, the month's supply of single family homes was 2.1, which means there were 2.1 months of listings on the market at the current rate of sales (includes listings under contract). Analysts consider a balanced California market to have 3 months of supply.
Days on Market implies that single family home sellers, for example, should expect offers to be accepted in 12 days on average. If it's taking longer to receive offers, sellers should consider reducing their prices. Buyers should proceed with caution and consult with an experienced agent before making an offer on a home that's been on the market for longer than 12 days because it may be priced too high or something else may be wrong.
In June, the median single family home sold for 100% of its original listing price, so single family home buyers and sellers in Sharon Heights and Menlo Park's 94025 zip code should expect to negotiate offers in line with the original list price. Condos sold at a discount.
THE IMPORTANCE OF LISTING A HOME AT THE RIGHT PRICE
We can split homes sold into two categories: homes sold without a price reduction and homes sold with one or more price reductions. Price reductions may indicate problems that need to be fixed or poor marketing and showings. More often, however, price reductions happen because the home was overpriced and misaligned with market data from the beginning.
Overpricing a home can create a negative feedback loop: Initial offers fail to materialize because the home is overpriced, the days on market surpasses the average, and a new crop of potential buyers assume there's something wrong with the property. More price reductions and low offers may follow, with the final selling price coming in well-below what the property could have garnered had it been priced correctly in the first place.
For an example of such a scenario, we can look at the market data for Sharon Heights and Menlo Park in June.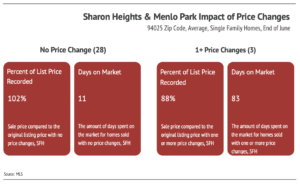 n the 94025 zip code of Sharon Heights and Menlo Park, 28 homes sold without price changes, recording 102% of their original listing prices, and spent only 11 days on the market. In contrast, the 3 homes that sold with one or more price reductions recorded only 88% of their original listing prices and spent over 9 times as long (83 days) on the market. These numbers underscore the importance of not overpricing a home for sale.
CONCLUSION
We want to assure you that of all investments you can make, real estate has historically proven to be the best asset you can own in the long-term.
Our team is committed to serving all your real estate needs while incorporating safety protocols to protect your loved ones. As we all navigate this together, please don't hesitate to reach out to us with any questions or concerns. We're here to support you. Contact us here.